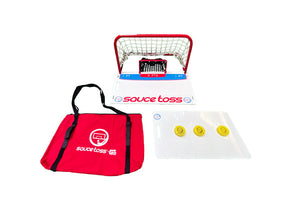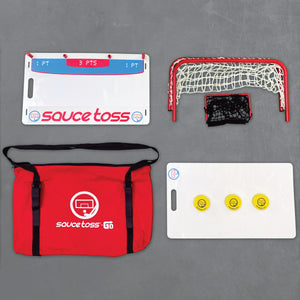 Regular price
$99.99
Sale price
$139.99
🏒Buy Sauce Toss® Go! TODAY and get a 💥FREE💥 Sauce Toss® Hockey Stick! 
Add, both, Sauce Toss® Go! and your choice of stick (Choose Here) to the cart - discount applied at checkout. Offer ends when sticks run out!


Sauce Toss® Go! — The Ultimate Backyard Hockey Game with Convenient and Comfortable Travel Bag
Sauce Toss® is the ultimate backyard hockey game ... think bean bag toss or corn hole meets hockey! Sauce Toss Go! is a compact take on the original, full-size version designed to easily take your Sauce to-go! Use it solo to work on your hockey skills or perfect a new trick shot — the possibilities are endless. Toss Sauce! Anywhere! Anytime! Perfect for tailgating, fun at the beach, or a backyard BBQ. Fun for all ages and skill levels!
As seen on NHL, NBC, CBS, TSN, CBC, Hockey Night in Canada, World Cup of Hockey, Hockey Tutorial
(x1) Patented 2 Net System: 1-Point Large Net, 3-Points Small Net

NHL-grade netting — maximum durability
Heavy duty steel goal posts
Easily snap onto boards

(x2) AAA Grade High Density Polyethylene Boards with built-in carrying handle (one board is the saucing pad, without nets)
(x3) Soft and buoyant "Tailgating Safe" Sauce Toss pucks
(x1) Sauce Toss Go! travel bag

Crafted from quality hockey bag canvas with reinforced corners and a heavy duty zipper
Front pocket holds up to 20 pucks or 6 cans
Stick strap allows you to easily store 1–4 hockey sticks
Comfortable carrying strap with velcro pad attachment

(x1) Rules booklet
Bonus: Download the Sauce Toss App for iOS! Challenge friends and play Sauce Toss anywhere from your phone or tablet.